Sep 08
Posted on 8th September 2015 by Pierre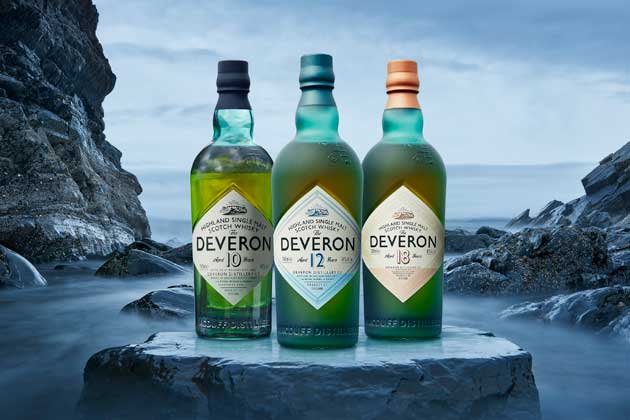 Built in 1962, the Macduff distillery is something of a whippersnapper in scotch whisky terms. Given the Scotch industry's tendency to trade on its heritage that could be considered a hindrance. Not benefiting from the excitement and goodwill afforded to new distilleries but lacking the history of the older names, a distillery like Macduff has to rely on the quality of its output to impress people. It has released whisky under the name Macduff and Glen Deveron. Now, with its latest releases, the whisky will be known as The Deveron.
Current owners, Dewar and Sons - part of the Bacardi group - have recently been releasing a range of expressions from five distilleries under the name The Last Great Malts. The distilleries are Craigellachie, Aberfeldy, Aultmore, Royal Brackla and of course Macduff. If the quality of previous releases is anything to go by, these The Deveron expressions will be worth a close look.
The range comprises three expressions The Deveron 10 year old, 12 year old and 18 year old.
Aug 29
Posted on 29th August 2015 by Jean-Luc
Okay! A short but sweet post coming up, this one is packed with exotic goodness as we explore the rums of South and Central America.
For August we thought we'd steer away from whisk(e)y for our staff picks so here is something a bit different – a lovely selection of rums (or maybe rons or perhaps even rhums?). Anyway these are four absolute crackers.
Staff Picks - our choices for this month
Aug 06
Posted on 6th August 2015 by Pierre
We're going to share our take on a classic whiskey cocktail, perfect at any time of the year, especially refreshing during the summer months. We've been incredibly self sacrificing while writing this piece, trying various combinations of ingredients and methods to bring you the definitive recipe. Ladies and gentlemen, we present the, thoroughly well researched, Whisky Marketplace Old Fashioned...
As any chef will tell you, it's all about the ingredients, and that's a maxim mixologists will no doubt echo. Some of you may baulk at the idea of putting expensive or high quality whiskey into your cocktails but before we get too protective let's examine the idea. In our view there are broadly two types of cocktail, long drinks with plenty of non-alcoholic mixer and shorter concoctions that are chiefly made up of pure spirit plus a few additives. We're going to nail our colours to the mast here, the short cocktails are the ones we really like - hey, we're whiskey drinkers, right? So if the cocktail is primarily made up of the whisky with a few additional flavourings, you're going to want to put decent components into it. Otherwise, what's the point?
And that doesn't stop with the whiskey. In fact it starts with the ice. We don't put any old ice in our cocktails. Oh no! We want the purest ice possible because for this cocktail, the ice is a central ingredient. If you're buying your ice ready made, go for a spring water brand. In UK stores the Blue Keld brand is widely available (for example at Ocado) - we've tested it against non spring water versions and it makes an astonishing difference providing a clean, pure base that allows the other flavours to shine. If you're making the cubes yourself consider freezing a good quality spring water - the same sort of water you'd be happy to add to your whisky, which make sense doesn't it?
Pay similar attention to your oranges, another key ingredient. Cheap bags of economy oranges will have disappointing skins that tear and break when you twist them and don't yield the explosion of zesty oils you need for this cocktail. Buy good quality oranges with firm, supple skins.
So on to the alcoholic ingredients. The classic version of the cocktail is made with rye whiskey but it has also become very popular with a bourbon base so we've picked one of each. We also like to use two types of bitters in our recipe.
Ingredients:
See July's Staff Picks for the best prices on Rittenhouse Rye and Ridgemont Reserve '1792
Rittenhouse Rye or Ridgemont Reserve '1792' Bourbon
The Bitter Truth: Orange Bitters
The Bitter Truth: Jerry Thomas' Own Decanter Bitters
Orange peel
Sugar syrup
Ice - we recommend Blue Keld Spring Water Ice
The method:
If you've ever cooked a risotto you'll know that opinions vary on whether to follow the old fashioned method of adding a little stock at a time while continuously stirring is essential or simply to add all the ingredients at once. For us the risotto tastes better following the traditional method and quite frankly the same is true for the Old Fashioned, do it the old fashioned way, add a little at a time and work the mixture. You can taste the love in the end product!
Add a couple of teaspoons of sugar syrup to your glass.
Add a dash of the Orange Bitters and a dash of the Own Decanter Bitters
Add a dash of whiskey
Work the mixture with a bar spoon
Add a single ice cube
Continue to work and stir the mixture
Add another ice cube with around a third of the remaining whiskey
Continue to work and stir the mixture
Repeat steps 7 & 8 until all the whiskey is added
Cut a strip of orange peel.
Twist and pull the peel over the glass to release the zesty oils into the mix.
Wipe the peel around the rim of the glass to leave traces of the oil
Peel another strip and trim to a nice neat strip with a knife.
Twist and place the peel strip upright in between the ice cubes
Serve and enjoy.
Jul 31
Posted on 31st July 2015 by Pierre
Notice anything unusual about these staff picks? That's right, there's only two whiskeys. The remaining two items are bottles of bitters. Confused? If you read this article with our take on the classic Old Fashioned whiskey cocktail you won't be.
Like most serious whisky commentators we've always told you not to put ice in your whiskey. Cocktails are of course an exception to that. But as any of you who have ever tried it will know, ice does strange things to whisky. As it cools certain flavours are suppressed and others seem to come to the fore. Not all whiskeys remain pleasant and some are distinctly uncooperative in cocktails.
Our bourbon and rye choices here are not only fantastic sipping whiskeys, straight up with no ice, they perform exceptionally well in our cocktail and would no doubt suit other recipes. As for the bitters, if you're experience to date consists solely of the famous and widely available Angostura Bitters then you have a world of flavour experience about to open up to you...
How to make the perfect Old Fashioned video podcast.
Staff Picks - our choices for this month
May 05
Posted on 5th May 2015 by Pierre
Grain whisky was seen for many years as only being fit for bulking out blended whisky and the notion of quality grain-only expressions would have been laughed at. As any experienced blender will tell you, they have long known that good quality grain whisky is an essential component which binds together the malts in a premium blend. More recently grain has been bottled and sold in both single grain expressions and blended grain-only expressions.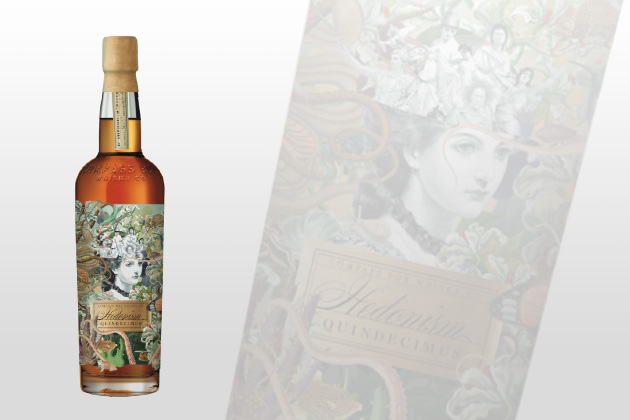 It must be noted that this has been done to varying levels of success - the premium grain releases can be over priced and disappointing, particularly when compared with malt whiskies at a similar price. Done well they are exceptional, full of complex flavours and grain sweetness.
Compass Box Whisky's Hedonism was one of the whiskies which changed perceptions of grain whisky when it was first released fifteen years ago. As with many things the company does it was ahead of its time. To celebrate the anniversary of that release they have issued a new limited edition release called Hedonism Quindecimus.
Hedonism Quindecimus is firmly in the latter category of rich, well executed grain whiskies and is available now for £128 from Master of Malt and The Whisky Exchange
Apr 20
Posted on 20th April 2015 by Pierre
We haven't posted any staff picks for a few months - ahem, five to be exact. We have no excuse. So this is something of a new start and for that reason we have chosen to look at some new products. We haven't tried them so they're here because they're new and because they caught our eye.
Staff Picks - our choices for this month
Dec 02
Posted on 2nd December 2014 by Pierre
[Editor's note] First publishes in 2012, this article still gets a huge amount of traffic but we noticed that some of the recommendations were out of dates so we've updated the list for 2014.
Buying a Christmas present for the whisky lover in your life? Youve perused their whisky collection and read Stu's excellent Christmas Whisky Gifts: Buying Guide. But you want to buy them something other than, or perhaps in addition to, a bottle of whisky.
Where to start? Here are some suggestions...
Nov 28
Posted on 28th November 2014 by Pierre
A quartet of fabulous Scotches this month with two old favourites, a superb indie and a new release from old distillery that doesn't usually bottle its own whisky. For a detailed look at the Bunnahabhain watch the video tasting notes here
Staff Picks - our choices for this month
Sep 29
Posted on 29th September 2014 by Pierre
This month we pick four blended whiskies from Scotland. None of these are household names but all are worthy of a place in your cabinet.
Staff Picks - our choices for this month
Jul 18
Posted on 18th July 2014 by Pierre
We are having some pretty extreme weather here in the UK. Last night we had the fiercest thunder storms I can remember. This morning there was a hail storm and now it's brilliantly sunny, about 84 degrees and very humid. Why am I giving you a weather report? Put simply this hot, humid climate makes me think of bourbon. So, without further ado, let me introduce four bourbons every whiskey drinker must try.
Staff Picks - our choices for this month